Institutional Arrangement
Secretaría de Medio Ambiente y Recursos Naturales (SEMARNAT)
Federal government entity and sectorial authority responsible for establishing the necessary criteria and instruments to guarantee the protection, preservation, and use of natural resources, by developing an environmental policy that ensures sustainable growth.
Comisión Nacional del Agua (CONAGUA)
Deconcentrated entity in charge of preserving national waters and related public assets, guaranteeing water availability in co-responsibility with state and municipal governments.
Sate Water Commissions
Offices of CONAGUA that administrate and preserve the national waters in each of the 13 hydrological regions in which the country is divided.
Local Directions
Offices of CONAGUA in charge of implementing its policies, strategies, programs and actions in the different states, in coordination with municipal and state agencies.
Mexican Institute of Water Technologies (IMTA)
Decentralized entity of the Federal Government that determines new technologies to be used for water protection, and mechanisms to assign it efficiently and equally among the different users.
State and Municipal Agencies
Local authorities that have the obligation to offer water supply and sewage services to the population, at a state and municipal level. According to the Political Constitution of the United Mexican States, the municipalities are responsible for providing public services associated to drinking water, drainage, sewage, water treatment, and disposal services.
FONADIN - PROMAGUA
The Federal Government created PROMAGUA to help in the structuring and financing of water projects by using PPP schemes. This Program is operated by FONADIN.
Mexican Institute of Water Technology (IMTA)
Decentralized public entity that is dedicated to facing national and regional challenges associated with water management and to outlining new approaches in technological research and development to protect the resource and allocate it efficiently and equitably among the different users.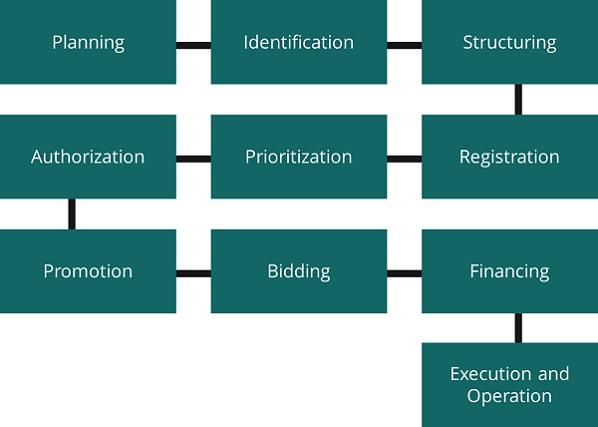 1
Planning
CONAGUA establishes short, medium and long term sectorial programs, following the guidelines of the National Water Plan (PNH) 2014-2018, which is the document that rules the national water policy. The PNH is a special program derived from the National Development Plan 2013-2018 and the Sectorial Environment Program 2013-2018.
2
Identification
CONAGUA identifies water projects to be developed, based on planning documents. Unsolicited proposals of PPP projects should be aligned to this plans. At a subnational level, FONADIN's Program to Modernize Water Operating Water Agencies (PROMAGUA) provides support for project identification.
3
Structuring
The Planning Deputy Direction of CONAGUA structures the projects to be developed, by identifying the needs of the sector. Subnational projects benefited by PROMAGUA are structured with FONADIN's assistance.
4
Registration
For those projects that require federal funds (including FONADIN funding), CONAGUA presents a registration application to the Investment Unit of the Ministry of Finance.
5
Prioritization
The CIGFD will evaluate the projects that require the allocation of federal funds, and will decide its inclusion in the draft of the annual expenditure budget. Additionally, this commission will determine the prioritization of the projects based on: a) socioeconomic profitability; b) its impact in extreme poverty reduction; c) regional development, and d) concurrence with other programs and investment projects.
6
Autorización
Projects that require federal funds are authorized by the House of Representatives.
Projects with funding from FONADIN /PROMAGUA are authorized by the Fund.
7
Promotion
CONAGUA, basin administrations and state and local agencies are responsible for the promotion of the projects.
8
Bidding
The bidding process is responsibility of CONAGUA, basin administrations and state and local agencies, and the process must be registered in CompraNet.
9
Financing
Different sources of funds are available for the projects, depending on their particular characteristics and their financial structure, including federal funds or PEF, and funds form FONADIN, BANOBRAS, commercial banks, institutional and private developers, and from institutional investors.
10
Execution and Operation
Carried out by the awarded operators and/or developers, under the surveillance of CONAGUA, basin administrations and state and local agencies, according to contract terms.