Institutional Arrangement
Secretaría de Comunicaciones y Transportes (SCT)
Is a Federal Government entity and represents the sectorial authority, responsible for promoting adequate communications and  transport networks to contribute to services accessibility, and cope with globalization trends.
Undersecretary of Communications
SCT unit that controls and regulates any issue related to the management, operation, promotion, and delivery of communications services, in order to guarantee access and extended coverage of telecommunications. This unit also issues permits and authorizations, signs agreements and provides rulings regarding public biddings.
Telecomunicaciones de México (TELECOMM)
Decentralized entity that provides basic telecommunications, telegraphic and money transfer services to the population, government agencies and enterprises throughout country.
Instituto Federal de Telecomunicaciones (IFT)
Independent regulatory institution responsible for the efficient development of telecommunications and broadcasting services, including the regulation, promotion and supervision of the operation of the radio electric band, public networks,  telecommunication, broadcasting services, and access to infrastructure.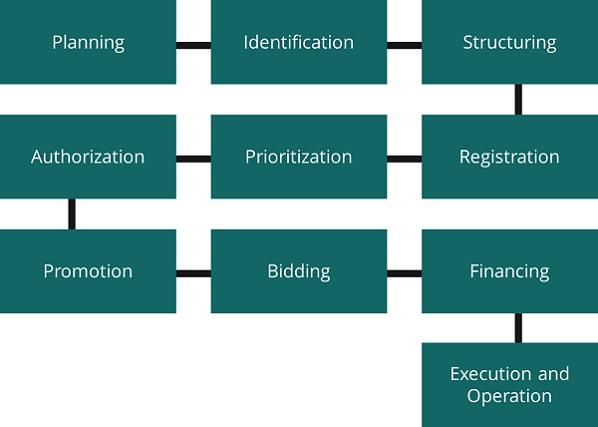 1
Planning
SCT establishes short, medium and long term sectorial programs for the development of communications infrastructure, according to the objectives and strategies defined by the National Development Plan and the Infrastructure Investment Program for Transport and Communications 2013 – 2018.
2
Identification
The Undersecretary of Communications identifies the needs of the sector to carry out communication infrastructure projects.
3
Structuring
The Undersecretary of Communications prepares, by itself or by means of third parties, the necessary pre-investment studies and analysis, required for the development of communications projects.
The Communications Sub-Secretariat elaborates, by itself or supported by outside consultants, the necessary studies and analysis for the communications projects development.
4
Registration
For those projects that require federal funds, SCT presents a registration application to the Investment Unit of the Ministry of Finance.
5
Prioritization
The CIGFD will evaluate the projects that require the allocation of federal funds, and will decide its inclusion in the draft of the annual expenditure budget. Additionally, this commission will determine the prioritization of the projects based on a) socioeconomic profitability; b) its impact in extreme poverty reduction; c) regional development, and d) concurrence with other programs and investment projects.
6
Authorization
Projects that require federal funds are authorized by the House of Representatives.
The IU will issue an opinion of economic viability for those projects that do not require public resources.
7
Promotion
The General Direction of Telecommunications and Broadcasting Policy of SCT is responsible for the promotion of the projects.
8
Bidding
The bidding process is responsibility of SCT and/or IFT, depending on the project type. All processes must be registered in CompraNet.
9
Financing
Different sources of funds are available for the projects, depending on their particular characteristics and their financial structure, including federal funds or PEF, and funds from BANOBRAS, commercial banks, institutional and private developers, and from institutional investors.
10
Execution and Operation
Project developers are responsible for the proper execution, as well as of the operation of the projects, under the SCT and IFT supervision as regulatory authorities.